An update for our valued community
8 May, 2020
Dear valued Residents, Families and Advocates,
I want to thank you again for your ongoing patience and understanding as we all work together to protect our community from COVID-19.
I wrote to you on 4 May 2020 outlining the Tasmanian Government restrictions regarding visitors to aged care facilities. Today, the Tasmanian Premier has directed that the current restrictions relating to residential aged care facilities will be eased to allow for the introduction of a limited program of visiting times for residents and families from Monday 11 May 2020.
To do this we will need your assistance and support to enable this to be implemented successfully. We will progressively increase visitation times over the coming months in line with Government Guidelines and will monitor and review the situation after each change to the visiting times before proceeding to the next stage.
There are a few things that need to occur in line with the Guidelines and these are:
1. Please contact us to schedule your visits. Please call our dedicated number 6345 7111 during business hours or email visitors@mctas.org.au and our dedicated team members will schedule your visit time and assist with any queries you may have. Please do not call the facilities directly, as they will not be able to schedule your visit.
2. There will only be one single point of entry through reception and we will monitor this.
3. There will be a maximum of only one visit per week, per resident.
4. There will be a maximum of only two visitors at a time.
5. Visits will occur in designated areas, as determined by the facility.
6. Each visitor will need to supply us with proof that they have had the 2020 flu vaccination. These can be sent in any time to visitors@mctas.org.au or brought on your first visit.
7. We will take your temperature using a no-touch infra-red temperature detection device to screen for signs of fever.
8. This will be supported by a number of screening questions for you to answer.
9. You will be required to continue to use good hand hygiene and use the sanitiser gel at reception before and after your visit, and maintain acceptable social distancing measures.
10. You will need to sign in and sign out of all MCT facilities.
Please note that children aged 16 years or less are still not permitted to visit, except under special circumstances, in line with the National Committee's advice.
The initial visiting times will be as follows and please note that we request you to arrive 15 minutes before your visit time to ensure that we can conduct the necessary screening.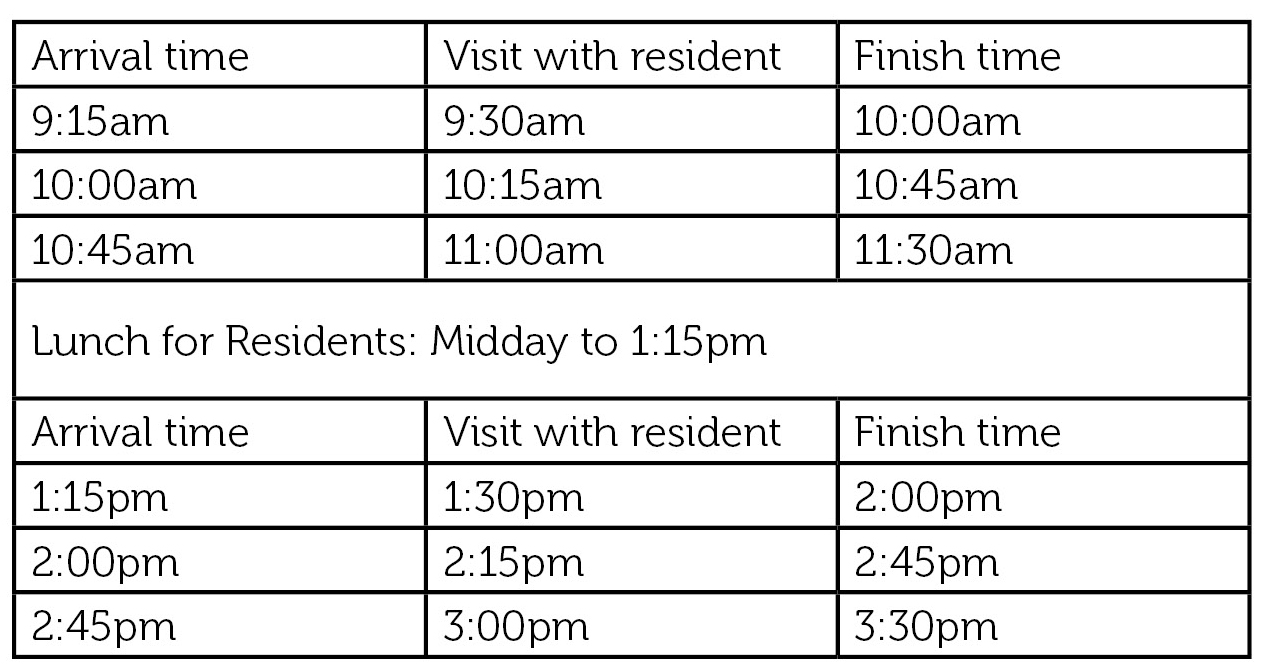 We will continue to monitor the situation and welcome any feedback from you as we slowly roll back the visiting restrictions.
We appreciate your continued patience and understanding at this time and thank you in advance for your cooperation.
Please don't hesitate to contact me or one of our team if you have any questions.
Yours sincerely,
Jackie Howard
Chief Executive Officer
Masonic Care Tasmania